Marine 3D Printing Services UAE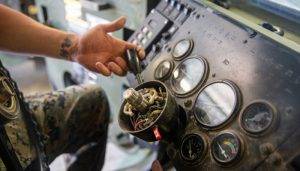 photo credits: Gunnery Sgt. Michele Hunt/USMC
Marine 3D Printing services UAE – 3D Printing is in news for its usability and adaptability for years now. Recently American military is turning additive manufacturing ( 3D Printing Technology) for   innovative applications to help them in the field. This time, Marine Corps System Command's (MCSC) Advanced Manufacturing Operations Cell (AMOC) has helped to develop a 3D printed metal steering wheel removal device in collaboration with the 1st Supply Battalion and industry partners. The new tool will enable Marines to remove the steering wheel during routine maintenance without damaging it, ensuring that the car will not need to be put out of service.
3D Printing technology is widening its reach day-to-day and almost every industries are now adopting 3D Printing. Additive manufacturing is now adopted as an effective production method. Same as in other industries, 3D Printing is getting popular in Marine industry too. Marine sector are using 3D Printing technology to design components for their boats, spare parts for submarines and even components of currents turbines. 3D printed boats are now the new trend !!
Every minute, no less than 20 tons of plastic waste is dumped into the oceans. Despite the fact that they are very harmful to marine life, millions of plastic bottles are thrown into the sea every day. That's why Searious Business, a company that specializes in the fight against plastic pollution, has developed the "One Minute Boat" project, named after the data mentioned above. The sailboat, printed in 3D, will be built from 20,000 kg of PET plastic recovered from discarded plastic bottles. In order to obtain a model of the project, Searious Business collaborated with the company Lay3rs, which 3D printed a replica of the boat with recycled PET. An initiative that proves that additive manufacturing also has a role to play in the fight against ocean pollution.
Inoventive 3D Printing Dubai, equipped with latest industrial 3D Printing machines has the capacity to undertake such marine projects. We can assure the best quality in UAE market for an affordable price. Large Format 3D Printing Services, Small scale 3D Printing services, or any 3D sculpture projects, just call/Whatsapp us.  We are available on +971 52 595 9616 | Email: info@inoventive3d.com |  https://inoventive3d.com/