3D Architectural Models in UAE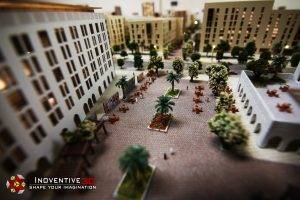 Inoventive 3D Solutions, leader in Architectural scale models and Industrial scale models in Dubai. We makes outstanding architectural models that are highly accurate and carries minute details. We provide model making services and 3D Printing solutions to Corporate Customers, industrial customers and individuals. We have specialized in Villa model making, skyscraper models, engineering models, industrial prototypes etc.
In model making, we combines latest 3D Printing technology along with traditional model making methods for highly précised models. We offer the best price for models in market and provides very high quality scale models for our customers.  Our art pieces can be simply study models to use for design visualization for architects and consultants, mock-ups, or fully detailed marketing models for exhibitions or any other shows. We are ready to serve you with our 24×7 professional designers, architects and state-of-the-art 3D Printing facility. Inoventive 3D have customers from all around the world and works very closely with our customers to  provide them high quality architectural building models & supporting services through teamwork. We are the best in Architectural Scale Models in Dubai and in whole UAE.
Best Services and Best Prices are guaranteed.
Call us for any further assistance: +971 56480 4061 | +971 4 261 8388 | email: info@inoventive3d.com | https://inoventive3d.com/