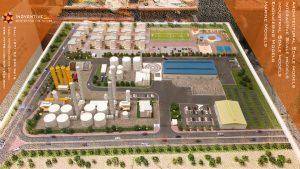 3D Model Making Dubai – Inoventive 3D Solutions turns drawings, sketches or other 2D designs into elegant physical 3D Models. We specialize in architectural model making, Industrial Models, Interactive Models, Structural models, engineering models, marine models and interior design models. We are experts in bespoke laser cutting services too.
3D Model Making Dubai
Since last many years, we are producing high quality marketing and planning scale models for many eminent property developers, designers and engineers in the region.  We do world-class scale models for exhibitions, business meets and events. We undertake bespoke one off scale models, large scale models and any prototyping projects.
With many years of experience, the Inovnetive 3D team have diverse backgrounds, from a range of design and model making disciplines. Using our creative knowledge, experience and attention to detail, we are able to produce models and laser cut items to suit all needs. We form close working relationships with our clients, ensuring that every detail is considered. The quality of our work, coupled with our excellent customer service, has meant that Inoventive 3D have built up an impressive reputation and trust among the market.
At our manufacturing facility we follow very strict Quality Policy which enables us to produce high-quality scale models within the promised time. Always we makes sure about the time-frame of the project and successfully delivering scale models within the given time.
Being the leading model making company in UAE, Inoventive 3D offers affordable model making services through out Middle Eastern and African  region. If your project needs the services of skilled technicians with a flexible and reliable approach to business, then we will be happy to discuss your project requirements.
Please feel free to contact us for any further assistance. Call/WhatsApp: +971 52 595 9616 | Email: info@inoventive3d.com | https://inoventive3d.com/