3D Printing for automotive in Dubai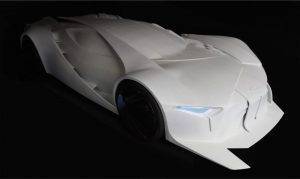 3D Printing for automotive in DubaiPorsche has introduced a new concept for sports car seating that leverages 3D Printing and lattice design a year ago (https://www.tctmagazine.com/additive-manufacturing-3d-printing-news/porsche-3d-printing-bucket-seat/).The new seats feature polyurethane 3D-printed central seat and backrest cushion sections, which can be customised by three firmness levels: hard, medium and soft. With its personalised seating, the German automaker is taking cues from the motorsport sector, where customised driver-specific seat fitting is a norm.
3D Printinghas become very important in manufacturing and development process. 3D Printing technology offers different means to test and validate it's spare or parts before they go into large scale manufacturing.  3D printing offers a quick and cost-effective approach to designing and producing parts. While adopt additive manufacturing to the manufacturing process, we can avoid special tooling and skilled labors and hence we can accelerate product development circles considerably.
The ability to produce designs quickly gives designers greater flexibility when testing multiple design options. 3D printing enables designers to make quick design changes and modifications in a fraction of the time.
Additive manufacturingoffers automobile market a cost-effective and flexible way to produce customized parts. Within the luxury and motorsports segment of the industry, companies are already using the technology to produce personalised parts for both the interior and exterior parts of a vehicle.  
3D Printing gives designers a great deal in freedom of geometries. With the majority of car components requiring complex geometries like internal channels (for conformal cooling), thin walls and fine meshes, AM enables highly complex parts to be produced that are still lightweight and durable.
Inoventive3D Printing Dubai, with their ultra-modern 3D Printing facility in Dubai, UAE offers large scale 3D Printing services and Model making services in UAE, Middle Eastern region and Africa.                
Apart from wide format 3D Printing Dubai, Inoventive 3D offers, Architectural scale models, Industrial scale models, rapid prototyping,
Please feel free to contact us for any further assistance or inquiries. Call/Whatsapp: +971 52 5959616 | Email: info@inoventive3d.com | https://inoventive3d.com/ | https://3d-printing.ae/