3D Printing, the match winner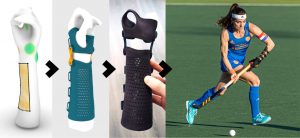 3D Printing in Dubai – How beautiful to know Eva de Geode, captain of Dutch national hockey team lead her team to victory in 2021 European Championship with help of a 3D Printed hand brace. Not only that, she scored three goals and was the player of the tournament( News courtesy: 3dprinting.com).
3D Printing can do wonders and is evolving as a key player in our daily life and specially in medical sector. 3D Printing has many functions in medical field and very soon it is expected to bring a major revelation in human organ transplantation. 3D Printing can speed up surgical procedures and can produce cheaper versions of required surgical tools and improve the lives of those who are reliant on prosthetic limbs.
Additive manufacturing, which is also known as 3D Printing, was first developed in 1980s. Since then, it developed gradually and evolving as a game changer in medical sector too.  3D Printing technology has been applied to many different industries, even in medical imaging techniques such as CT Scans, X-rays, Magnetic resonance imaging (MRI) scans and ultrasounds are used to produce tie original digital model which is subsequently fed into the 3D Printer.
As of now, we can say that, there are four areas where 3D Printing can help in medical sector. They are; creating tissues and organoids, manufacturing of surgical tools, custom made prosthetics and patient-specific surgical models.
At Inoventive 3D, we have a 6000 sq.ft, state-of-the-art 3D Printing facility in Dubai, where we can 3D print anything as you need. At any size and at any Shape… and as a single piece. 30x faster 3D Printing with excellent quality, which no other company can compete!!
Being the leader in 3D Printing Dubai, we can assure you the best 3D Printing services. We have professional and experienced in-house team, who can take care all steps of your project and will not outsource it on any stage and hence, your design and project will be kept in highly-confidential.
We have a dedicated parking place for our esteemed customers… We will be happy to welcome you and receive your inquiries. Please feel free to contact us. Call/Whatsapp us: +971 52 595 9616 | Email: info@inoventive3d.com | https://inoventive3d.com/