3D Scale Model Makers in Dubai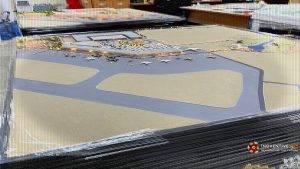 3D Scale Model makers in Dubai – Inoventive 3D, the leading scale model making company in Dubai extends its 3D scale model making services to entire Middle East and African region. Since last many years, Inoventive 3D is being the leader in manufacturing interactive scale models, architectural scale models, industrial scale models, engineering models, marine models and master plan scale models. Being the best 3D Scale model makers in Dubai, Inoventive 3D offers affordable 3D Printing services in UAE. 
Our professional and experienced model making team is supported by our state-of-the-art model making facility along with ultra-modern model making instruments, tools, machineries and 3D Printers. Our facility is capable to undertake any types of projects and efficiently complete the work on-time.
Inoventive 3D are specialists in making scale models for exhibitions and events. We deliver world-class scale models on-time along with futuristic pedestals. We have professional and experienced model makers along with ultra-modern 3D Printing facility in Dubai, where you can have the most complicated geometric shapes with-in few hours!!
We undertake all types of scale models including, architectural scale models, master plan models, industrial scale models, engineering models, marine models, structural scale models and interior models. We do detailed models, concept models, massing models and many more. We are the best scale model makers for exhibitions, and any other promotional events.
At our state-of-art model making facility, our model makers use the ultra-modern technologies and tools such as laser cutting & 3d printing to create unique architectural models for our clients. Please feel free to contact us for any further assistance or inquiries. Call/WhatsApp: +971 52 595 9616 | Email: info@inoventive3d.com | https://inoventive3d.com/