Architectural model cost in UAE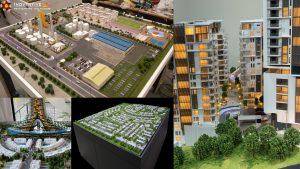 Architectural model cost in UAE – Inoventive 3D offers world-class scale models for Lowest price and quickest delivery. With our state-of-the-art model making facility in Dubai, we have capability and expertise to produce multiple large scale models in UAE and ship it to anywhere in the world.
We are experts in making Scale models for Exhibitions and events. Scale models from our manufacturing facility used to be the centre of attraction for many exhibitions like Expo2020 Dubai, World Defence Show, KSA etc. Interactive scale models, Industrial scale models, architectural scale models, Marine models, master plan scale models etc are our specialities.
At our modern facility, we have a team of professional and experienced model makers along with ultra-modern facilities and model making tools. Our team take care of every project with extreme professionalism and make sure the project has been delivered and installed it on-time at the site.
Interactive scale models are another attraction from Inoventive 3D. We integrate latest technology, AR/VR gadgets and LED screens to a traditional scale model and it will take traditional scale model concept to another horizon of information and interactive capabilities. Interactive scale models enables user-engaging interactive and immersive AR/VR experiences for clients with our interactive scale models.
At Inoventive 3D, we offer affordable Model making services and offer cheapest price for model making services. Apart from model making service, we offer high quality Industrial grade 3D Printing services to the region.
Please feel free to contact us for any further assistance. Call/WhatsApp: +971 52 595 9616 |Email: info@inoventive3d.com | https://inoventive3d.com/