Architectural model makers of UAE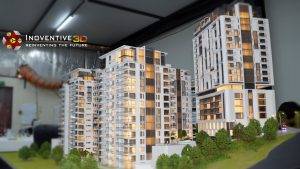 Architectural Model Makers of UAE – Inoventive 3D, the leading model making company in UAE and 3D Printing company in UAE offers manufacturing of affordable world-class scale models. At our manufacturing facility we do Architectural scale models, Interactive scale models, industrial scale models, marine models, engineering models etc.,
We cater best Architectural model making & Exhibition Solution ranging from Interactive touch screen panel, 3d projection mapping indoor presentation, Interactive Architectural Animation, 3D Architectural Rendering, Architectural Visualisation, 3D Walk-through, 3D Illustration, 360 Panoramic View, Exhibition, Event and 3D Virtual Tour etc.,
With our many years of professional experience, Inoventive 3D have been the first choice model making company for several world-renowned architects, engineers, artists, developers and realtors. Our scale models have been continually the show-stoppers for every exhibitions and business events in Middle East. Our logistic teams will be taking care of transportation and safe installation of models at exhibiting sites through-out middle east and in Africa and they will make sure the smooth functioning of interactive aspects of the model on-site.
If your company is developing an architectural design and putting it for project approval or design proposal for competing, we have set a clear benchmark of quality and professionalism in model making, which gives high confidence of success to you and for our customers. We make sure our scale models adding value to the corporate image of our clients, who is using our models for exhibitions or events etc., We have recently added our prestigious offer for Interactive Scale models, which embraces the latest technology and creativity.
Please feel free to contact us for any further assistance or inquiries. Call/WhatsApp: +971 52 595 9616 | Email: info@inoventive3d.com | https://inoventive3d.com/