Architectural model making – Inoventive 3D Dubai, UAE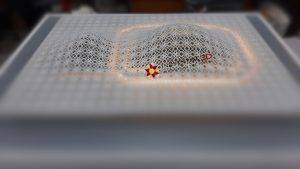 Architectural model making is an art which makes a physical and scaled representation of any structure. Architectural scale models are used for various purposes as to study about the proposed project or to interact with project approval authority etc., It can also be used for exhibitions, visualization or as a sales tool for the project.
Mainly there are 3 types of model making in architecture;
Conceptual model
Conceptual model making often accompanies the initial sketches and creative brainstorming in the beginning stages of the project. This type of model allows the designer to develop their initial ideas and explore them in a 3-dimensional way. Conceptual models are typically constructed from simple materials and are easily adjusted as the design is progressed.
Working model
The next step in the design process tends to involve a working model, often constructed of higher quality materials that reflect specification in design. Working models help designers communicate scale, form and materials to their clients and colleagues.
Presentation model
Far more detailed than previous models, the presentation model will reflect the proposed material of the project and will often provide context of the site and surroundings. Additional features like illumination and colour schemes can be included.
At Inoventive 3D, being the best model making company in UAE we have excellent and professional team of model makers and architects for making architectural scale models. We have excellent experience in the field of Architectural scale models and caters all over the world, especially in Middle East and African region.
We do, Architectural scale models, Interactive Scale models, Industrial scale models, Engineering models, Marine models and wide format 3D Printing. Please feel free to contact/WhatsApp: +971 52 595 9616 | Email: info@inoventive3d.com | https://inoventive3d.com/