Architectural Model Making Company in UAE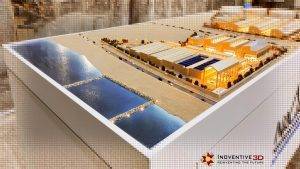 Architectural Model Making Company in UAE – There are many architectural model making companies in Middle East, but, if you are looking for a trusted partner for making models for your project, that is Inoventive 3D, where we bring out every model with its complete elegance and your project will be 100% confidential.
We have a vast model making and manufacturing unit at Dubai equipped with all latest machineries and professional model making teams. We manufacture many models every day in our facility with persistence and deliver it to all over Middle Eastern and African region.
Inoventive 3D are specialists in producing scale models for exhibitions, events, promotional meets and project approvals and every time our world-class scale models outperform and stands tall among other project models. Apart from Architectural scale models, we do Interactive scale models, industrial scale models, engineering models, marine models and structural scale models.
At Inoventive 3D, we offer affordable model making services and always meets scheduled delivery time. We never limit our service with just making models, we extend it till its safe delivery, installation and its after sales maintenance.
 With our trusted service, Inoventive 3D is being the first-choice model maker for many world renowned architects, engineers, realtors, designers and artists from all over the region. Our many models were displayed in recently concluded prestigious Expo 2020 Dubai, World Defence show 2022 in Riyadh, Saudi Arabia, Dubai International Motor Show 2022 etc.
Please feel free to contact us for any further assistance. Call/WhatsApp: +971 52 595 9616 | Email: info@inoventive3d.com | https://inoventive3d.com/