Architecture Model Making UAE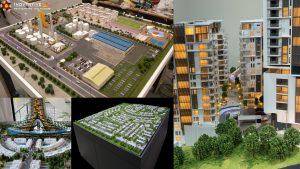 Architecture model making UAE – Inoventive 3D, the best model making company in UAE offers lowest price and fastest delivery for their world-class scale models. We offer our services all around the world, especially in Middle East and African Region. Interactive Scale models, Architectural scale models, master plan models, interior scale models, industrial scale models, engineering models, corporate scale models, marine scale models etc are our speciality.
At our state-of-the-art model making facility, we have professional model makers who creates elegant scale models for exhibitions, events, promotional meetings etc. These models can be made with varying degrees of detailing from a simple massing form to maximum detail including all architectural features of exterior and interior.   We make scale models with all its detailing, landscaping, modern lighting etc. This detailing helps to attract the attention of potential clients, however, not all architectural scale models are made this way and for this purpose.
A full-color detailed model will show every possible detail in terms of color and materials.  All materials to the exterior of the built form are either engraved, colored and textured or a combination to represent actual materials. These types of scale models that developers use as a powerful marketing tool to sell real estate to end users.
 Being the leader of model making industry, we deliver quality services to Middle East and African Region. Also, we have special arrangement with world's leading logistic companies, who will make sure of the safest delivery of our scale models all around the world and our installation team install it at the client's site.
We offer a complete package which includes developing the scale models, transporting it to the customer, safe installation of the scale model and we undertake service after sales of our models. Please feel free to contact us for any further assistance. Call/WhatsApp: +971 52 595 9616 | Email: info@inoventive3d.com | https://inoventive3d.com/