Expo 2020 Dubai – Scale Models from Inoventive 3D is center of attraction!!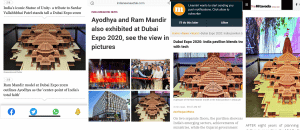 Expo 2020 Dubai – Inoventive 3D, professional model making company in Dubai, UAE is proud to be part of Expo 2020 Dubai as our Scale models are becoming center of attraction in different pavilions. At Indian Pavilion, Model of Ram Mandir is in trending news for its excellent and professional look. Scale Model of Ram Mandir is getting noticed for its much detail illustration. Our high-end, ultra-modern SLA 3D Printer created this wonderful sculpture for #Expo2020Dubai.  Watch the making video of the Ram Mandir Model here: Ram Mandir Model for Expo2020Dubai
Scale models of Ram Mandir, which is exhibited in Indian pavilion of Expo2020 is one among many excellent models from Inoventive 3D. We, Inoventive 3D are professional model makers and specialist for making models for exhibitions and events.
At Inoventive 3D, we have high-end 3D Printing machines, which prints large objects such as, life size sculptures and boat hulls with-in hours!! We do 3D Printing of customized furniture, home decors, molds for concrete facades, 3d Printed boat hulls, step-out figures for billboards, Life size sculptures etc.,
We offer wide format 3D Printing, Interactive Scale Models, Architectural scale models, Engineering models, industrial scale models and Marine Models
Please feel free to contact us for any further assistance… Call/Whatsapp: +971 52 595 9616 | Email: info@inoventive3d.com | https://inoventive3d.com/