How does Model Making helps in architectural project?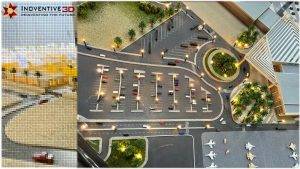 How does Model Making helps in architectural project? – Do you wonder how does scale models helps an architect in his project? Architectural scale models will give architect or designer a 3D view of the project.  With tangible aspects of architectural scale models, they can easily identify the cons and pros of the project and accordingly they can take necessary further steps.
Architectural scale models are the best tools to convey project ideas and its features to potential customers and it will help them to easily understand how the project will look like after its completion. model enables the client to view the whole project in accurate 3D without perspective or convergence distortions. The Scale model gives visitors a full 3D view, so they can better understand the building as a whole. Visitors might need an explanation of where various places are in the building, and the model can be very useful for showing this. 
From all its perspectives, an architectural scale models shows what the structure will look like. This is very important for every customer for those who want to invest in that project. In short, architectural scale models can interact with your customers much easily and effectively.
To make this interaction simpler, Inoventive 3D offers Interactive Scale models, where we use latest applications, LED Screens, Gadgets and make static architectural scale models into a dynamic scale model, with which these customers can directly interact with. These interactive scale models will give a realistic feel to its customers and can present your project ideas in more futuristic way.
Inoventive 3D, the best model making company in Dubai, UAE offers affordable Model making services. We do, Architectural scale models, Interactive scale models, Industrial scale models, Engineering models, marine models and other structural models. We have extensive experience in making models and can extend our services to all middle east region and Africa.
Please feel free to contact us for any further assistance. Call/WhatsApp: +971 52 595 9616 | Email: info@inoventive3d.com | https://inoventive3d.com/