Industrial 3D Printing Dubai – Inoventive 3D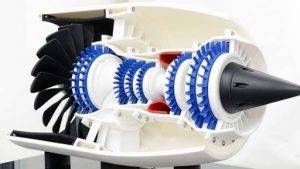 Industrial 3D Printing Dubai is moved well beyond prototyping, rapid tooling, toys and trinkets. 3D Printing technology (Additive Manufacturing) is creating durable and safe products for sale to real customers in moderate to large quantities. Industrial 3D Printing technology is now in the mainstream and adopted as a main manufacturing tool by many industries.
Many leading brands are already using 3D Printing technology for producing jet engines, home appliance, medical devices, dental devices, consumer electronics etc. 3D Printing is becoming viable alternative to conventional manufacturing methods in an increasing number of applications. More industries are adopting 3D Printing now.
Foremost attraction of Additive Manufacturing technology is the flexibility in choosing printable materials. From basic plastics and photosensitive resins, 3D Printing has increase it range to  ceramics, cement, glass, numerous metals and metal alloys, and new thermoplastic composites infused with carbon nano-tubes and fibers and many more…!! Although the direct costs of producing goods with these new methods and materials are often higher, the greater flexibility afforded by additive manufacturing means that total costs can be substantially lower.
Industrial 3D Printing is emerging as a revolutionary shift. Every industrialist should seriously consider and accept 3D Printing technology as their mainstream tool for manufacturing. At Inoventive 3D, with its state-of-the art, industrial 3D Printing facility, we can accept any digital "blueprint" where we can produce the needed products for you. We have capability to print it in any sizes or shapes.
With our fastest industrial 3D Printer, we can produce hundreds of 3d printed parts an hour. You just need to bring a 3D Printable file and take your product within hours, no matter, how much big or what size it is..!!
At Inoventive 3D, we also offer the best Architectural scale models, Industrial scale models, Rapid prototyping and 3D Models with projection mapping.
Please feel free to contact us for any further assistance. Whatsapp /Call : +971 52 595 9616 | Email: info@inoventive3d.com | https://inoventive3d.com/