Industrial Scale Model making companies in UAE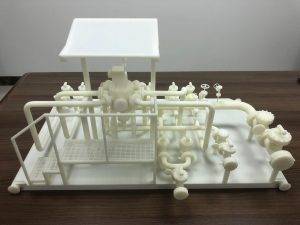 Industrial scale model making companies in UAE – Inoventive 3D, the leader in making scale models and best among scale model makers in UAE. We produce accurate and exquisite scale models, which can be show-stealers for exhibitions or business events. Inoventive 3D offers affordable model making service and offers quickest delivery. Since many years, Inoventive 3D are providing the best scale models to the region and proud to have customers like renowned developers, engineering firms, corporates and government departments from all over the world, especially from Middle East and African region.
We are specialized in making Industrial Scale models, Engineering models, Architectural scale models, marine models, and structural scale models. As an added advantage, our model making experts can convert any ideal scale models to an amazing and attractive interactive scale models. Interactive scale models can communicate directly with customers by using latest electronic gadgets, applications and LED Screens.
Our model making experts converts sketches to a high-definition scale model with all details. We make your scale model as attractive as possible by adding landscaping, water bodies and natural surroundings supported with internal and external illuminations. To accomplish the extra-ordinary finishing, we integrate latest 3D Printing technology, traditional model making methods and latest tools for model making.
At our manufacturing facility, we produce scale models with impeccable detailing by using our highly skilled model making team. Along with our skilled team, we have multiple ultra-modern 3D Printing machines, CNC machines, water-jet machines etc. Our team never compromises on quality of scale models.
For any further details or inquiries, please call/WhatsApp: +971 52 595 9616 | Email: info@inoventive3d.com | https://inoventive3d.com/