Interactive architectural model – Inoventive 3D Solutions Dubai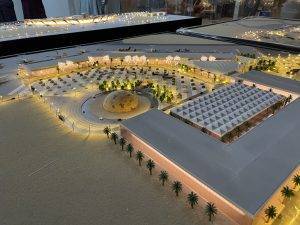 Interactive architectural scale models are the latest and updated version of any architectural scale models with attractive, interactive and dynamic aspects added into it. Inoventive 3D combines traditional model making methods and latest LED displays and gadgets to present excellent interactive architectural scale models to our customers.
Interactive architectural scale models can be controlled by smart phones, handheld tablets or an inbuilt touchscreen. These interactive architectural scale models will definitely engage and captivate attentions of potential clients and its interactive feature will enable a direct communication method with your customers.
As Interactive models supports latest gadgets, it can be also connected to adjacent screens, or display video to a bigger screen or wall through a projector which will make a "wow" effect on your project. Voiceover can also be given and played during presentation of the scale model.
Interactive architectural models can be made at any size… from a size of small mobile phone or as much big us multiple large LED screen displays. At Inoventive 3D, we have state-of-the-art model making facility, which enables us to have the flexibility make it at any size or shapes, just as your requirement.
Being the leading model making Company in Dubai, UAE, Inoventive 3D Solutions have immense experience in model making. They have professional model making team along with in-house 3D Printing facilities for producing top-class Architectural scale models, Industrial scale models, marine models, engineering models, models of skyscrapers etc.
Please feel free to contact us for any further assistance / inquiries. Call/WhatsApp: +971 52 595 9616 | Email: info@inoventive3d.com | https://inoventive3d.com/