Interactive scale models Dubai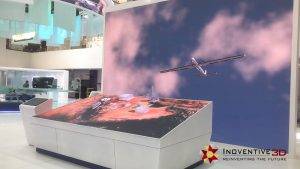 Interactive scale models Dubai – Architects and real estate developers have been using scale models since very long time. These scale models help them in pre-construction analysis, and to communicate with their potential investors and customers. While physical architectural scale models provide good visual perspectives, they have plenty of limitations mainly like its static nature.
Interactive scale models can overcome the limitations of traditional type of scale models by integrating LED Screens, lights, audio & video effects, latest gadgets and other applications. Interactive scale models, 3D presentations and virtual reality models are a great way to present a project.
At Inoventive 3D, we are experts to create interactive scale models for presentations, business events and exhibitions. Interactive scale models are a great sales tool with unlimited possibilities to present your project and to reach to your potential customers.
Our interactive scale models can be seen in many of recent and on-going exhibitions like expo 2020 Dubai, World Defense show 2022 in Riyadh-Saudi Arabia etc., Along with interactive scale models, we do futuristic pedestals, excellent stands for touchscreens, and other controlling stations which can be associated with the interactive models.
We are specialists in making;
Interactive scale models
Interactive LED tables
3D Virtual models
Interactive mockups
At Inoventive 3D, we offer affordable model making services on Interactive Scale models, architectural scale models, engineering models, industrial scale models, marine models and corporate scale models. For any further details / inquiries, Please call/WhatsApp on +971 52 595 9616 | Email: info@inoventive3d.com | https://inoventive3d.com/