Interactive Scale models Dubai – Inoventive 3D Solutions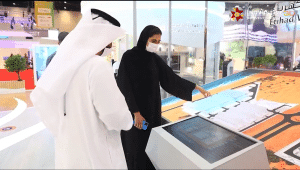 Interactive scale models Dubai are getting more and more attention and popularity in exhibitions and events as they are best communication tool. In recent exhibitions and events, we noticed that, the builders, developers, engineers and exhibitors are giving more importance to interactive scale models.
Interactive scale models are the combination of traditional static scale models with latest LED Display screens and light arrangements. These interactive models will be controlled via any inbuilt touch screens or handheld tablets or even you can control it by a gesture. Its interactive audio and video displays communicates with the clients and convey the exact message of the designer or exhibitor.
Interactive scale models have variety of options which includes light panel displays and LED arrangements which will make a memorable and splendid presentation for your clients. Interactive scale models will engage your clients and it can give very detailed presentation on your project, which will enhance creative dialogues and increase the possibility of investments.
With an interactive scale model, we can present a realistic environment for your potential customers as it displays both geographical content, architectural content and analysis of multiple infrastructure at the same platform. Its voice over narratives, attractive visual displays, control panels etc will leave an unforgettable visual treat to its audience.
Being the leaders in architectural scale models in Dubai Inoventive 3D offers world-class Scale models such as Architectural scale models, Industrial scale models, Engineering models, Marine models, Building models, Prototypes and wide format 3D Printing. We are the best in Interactive scale models Dubai.
Please feel free to contact us for any further assistance. Call/WhatsApp: +971 52 595 9616 | Email: info@inoventive3d.com | https://inoventive3d.com/