Interactive scale models in Dubai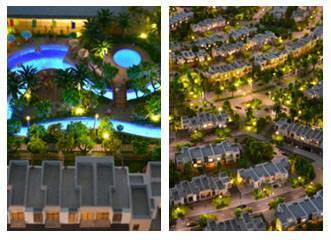 Interactive scale models in Dubai  – Inoventive 3D is happy to introduce interactive scale models to our customers. Interactive Scale model is a combination of traditional scale models with modern LED display screen and which create an interactive animated table. These interactive models will be controlled via any inbuilt touch screens or a handheld tablet, or even by a gesture. These models will enable user a better understanding about the project.
There are many benefits for using an interactive scale models and few are below;
It will engage and captivate your customer to the project
Enables effective communications
Enhance creative dialogs
Establishes the visual identity of your design
Unforgettable visual impact
Interactive scale model can consist of small mobile single screen device to a large scale multiscreen system with a video wall seamlessly attached. This flexibility gives you the freedom of choice on size and mobility for your models. At Inoventive 3D, we have ultra-modern 3D Printing machine, with we can produce 3D Printed models in any shape, size, color or texture.
As an optional feature, we can connect the interactive model to an adjacent screen, video wall or to a projector and it will enhance the multimedia effect by displaying relevant contents, photomontages, interactive 360 degree panoramas, animations or other info-graphics. A voice over also can be incorporated to the visual displays.
Interactive scale models are perfect for any presentation at any large exhibitions, events or promotional gatherings. Interactive models create a realistic environment for your potential customers as it displays both its geographical content, architectural content and analysis of multiple infrastructure at the same platform. These models create a fantastic opportunity to present all the concepts, analysis and advantages of a development in a highly engaging and captivating way.
Voice over narratives to accompany visual displays, control panels via touch-screen, tablet, smart phone or gesture based controls, wall screens or projectors to display other synchronized information, Mobile Applications etc can be added to the interactive scale models as and when required.
At Inoventive 3D, we also offer all regular scale models like Architectural scale models, Industrial scale models, marine models, engineering models and 3D Printing
Please contact us for any further assistance / inquiries. Call/Whatsapp: +971 52 595 9616 | Email: info@inoventive3d.com | https://inoventive3d.com/