Landscape architecture model making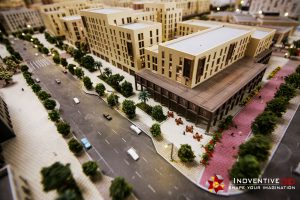 Landscape Architecture Model Making – Inoventive 3D, the best model making company in UAE and in Middle East region offers world-class landscape architectural models, industrial scale models, marine models, engineering models and structural scale models.
Architectural scale models are the best tools for articulate great features and design concepts to the public. Throughout the history, scale models have been used as a representative tool. As the time passed, model making also evolved to the mainstreams of product designing, architectural development, product marketing and sales etc.
An Architectural scale model can give a better understanding to its audience about the land and its site analysis. Achieving this, at Inoventive 3D, we integrate interactive aspects, projection mapping and will integrate latest software and gadgets. Inoventive 3D generates creative ideas and concepts which gives an additional exotic and futuristic look to their scale models.
Two-dimensional drawing, even abstracted, cannot portray the intent of design as accurately as a three-dimensional model. 2-D drawings lock viewers into a specific position and trap them in a particular state of observation. 2D drawings will be hard to understand and conveying its features to its audience may be difficult with 2D drawings. 3D scale models will easily overcome the communication challenges of 2D drawings and even it will bring out any design flaws to architects.
With years of experience, Inoventive 3D have satisfied and esteemed customers all-over UAE, Middle East and African Region. We deal with various government departments, world-renowned developers, realtors, architects etc.
Please feel free to contact us for any further assistance. Call/WhatsApp: +971 52 595 9616 | Email: info@inoventive3d.com | https://inoventive3d.com/