Best Large Scale Model Making Company in UAE – Inoventive 3D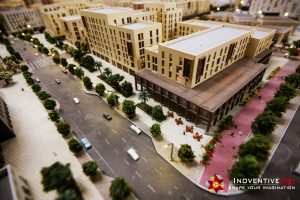 Best Large Scale Model Making Company in UAE – Inoventive 3D, specialists and professional model making Company in Dubai, UAE offers affordable large scale model making services.  Being a long established and reputed model making company in UAE, Inoventive 3D has already completed many projects with esteemed government departments, agencies, developers, artists and realtors. Inoventive 3D is well known for its world-class, high quality products and its excellent service. 
At Inoventive 3D, our speciality is in Interactive scale models, architectural scale models, industrial scale models, marine models, exhibition models, display models and topographical models. In our model making facility, we have ultra-modern 3D Printing machines, laser cutting machines and laser engraving machines for facilitate our customer requirements.
Our expert and experienced team of model makers can help you with making a simple concept model to a fully detailed presentation or exhibition display model. We not only focus on scale models but also ensures its pedestal look futuristic and classy to make the model outstanding. We can even add sound, light and landscaping to your scale models to give it an added attraction. Our proficient team will convert your two-dimensional ideas into three-dimensional reality.
We have blend of traditional model making methods along with the latest 3D Printing technology to bring out the world-class models for our esteemed customers. If you are looking for an outstanding and unique model? Inoventive 3D have the experience and expertise and we guaranty, your project will be done according to your expectations and specifications and it will be delivered on time.
Please feel free to contact us for any further assistance. Call/WhatsApp: +971 52 595 9616 | Email: info@inoventive3d.com | https://inoventive3d.com/