Thinking to make a Scale Model for your Project?
Thinking to make a scale model for your project? Inoventive 3D, the best model making company offers the best quality, price and delivery for architectural models and industrial models. Since, past so many years, we are helping our clients to be #1 in presenting their products and projects most effective way.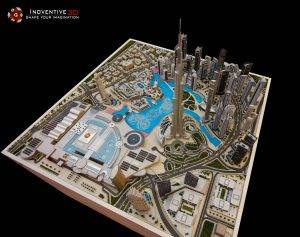 Scale models have been used throughout almost the entire history of architecture. Today scale modeling is used in architecture for different reasons: from the exploration of the form to the presentation or display of architectural details and correlations. Therefore, there are several possible objectives when building scale models: to explore the form, the level of detail and properties of an object, to decide on an appropriate planning strategy and many others that go beyond the scope of architectural design. Any object can be presented by a scale model in different ways and at different stages of its creation. Their purpose may changes with the different spatial display tasks like- from  display of internal spaces /interiors to city models.
Being, #1 Model making company in Dubai,  Inoventive 3D  caters the best Architectural scale models, Industrial scale models, rapid prototyping and 3D Printing  for the entire MENA Region and Africa. Please feel free to contact us for any further assistance. Call/Whatsapp: +971 52 595 9616 | Email: info@inoventive3d.com | https://inoventive3d.com