Model Makers in Middle East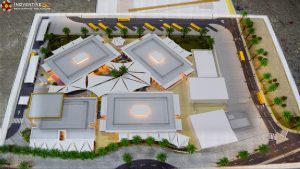 Model Makers in Middle East – Inoventive 3D, the best model making company in Middle East offers Architectural scale models, Industrial scale models, interactive scale models, scale models with projection mapping, prototypes, structural scale models etc.,
At Inoventive 3D, we have a professional team of Model makers with support of state-of-the-art 3D Printing facility for accurate and detailed models. We are specialized in making models for exhibitions and events.  We offer Architectural scale models, Industrial scale models, engineering models, marine models etc., We do provide top-class architectural and land scape models which will be benefiting architectural projects in planning and can be used as an excellent marketing and sales tool.
Since last many years, we are the leading model making company in UAE and gained extensive clientele database from all over the world. We not only offer Making of models, but also, we will take care of its transportation to the customer's premises along with its installation. We offer excellent sales after services for our scale models.
We produce architectural scale models using the latest available technology like 3D Printing, SLA 3D Printing technology, laser cutting along with other traditional model making methods. Models can be built to any scale, typically most landscape models are built to a scale of 1:500, 1:1000, 1:1250, 1:2500, and architectural model scales range from 1:50, 1:75, 1:100, 1:120, 1:150, 1:200, 1:250, 1:300, 1:500. 1:750 and 1:1000.
We can assure you the best price and quality for every scale models we make and ensure to deliver it on the agreed delivery date. With the latest in 3D printing technology, a qualified team, and our commitment to perfection, we create models that go beyond industry-standard requirements. We never take shortcuts in our choice of materials, processes, or in  craftsmanship
Please feel free to Call/WhatsApp: +971 52 595 9616 | Email: info@inoventive3d.com | https://inoventive3d.com/