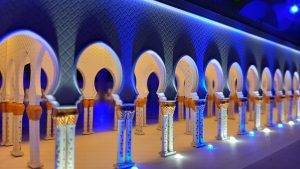 Model making in Dubai – Inoventive 3D, the best model making in Dubai and leaders in architectural scale model making, interactive scale models and other models. Inoventive 3D produces world-class scale models with affordable price range and with a shortest turnaround time. In our model making facility, we have professional and experienced model makers and architects to facilitate your model making project on-time.
Events, Exhibitions, Project submission, Sales meeting, any time anywhere you can use scale models to present your extensive design and creativity. In our model making facility, we integrates traditional model making methods with latest and ultra-modern 3D Printing technology to achieve the best result and to bring the even the minute detail to your scale models. Our architectural and other scale models are the show stoppers in many events and exhibitions. In Expo 2020 Dubai, you can see many of our models within many pavilions.
The architectural model is a tool that is widely used to express the design of a building or a master plan. The model represents architectural ideas and can be used in all phases of design. An architectural model shows the scale and physical presence of a proposed design.
We do high-end, interactive scale models, Architectural scale models, Industrial scale models, engineering models, marine models and prototyping services.  Affordable model making service Guaranteed. We undertake delivery, after sales services including installation of models. Attractive futuristic pedestals are another added advantage for our models.
Please feel free to contact us for any further assistance. Call/WhatsApp: +971 52 595 9616 | Email: info@inoventive3d.com | https://inoventive3d.com/