Model Making in Sharjah – Inoventive 3D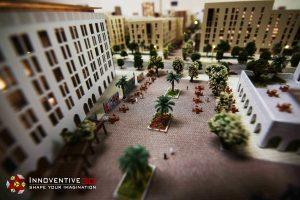 Model Making in Sharjah – The most traditional method of architectural modeling is to build a scale version of the building project. The goal is to build a representation of the project we are about to build, in order to better help you plan out each step and determine viability of each of your decisions. These scale  models can also used to communicate your vision for the building to clients and other stakeholders. Building a physical architectural model has been so successful and is an integral part of our history as human beings.
Even today, in this digital age, architectural models have become more popular than ever before. Having always been an opportunity for builders, engineers, architects and clients alike to visualize their concepts, digitalized tools have enabled and improved access their access. New technology in fact, led to opportunities in architectural scale modeling that were unheard of only a few years ago. As a result, even more clients can take advantage of some of the benefits that architectural models can provide.
Easy Project Visualization
Architectural model can help you to visualize the project. Physical models will enable its audience to grasp complex and especially spatial concepts much more easily if we can view them rather than imagining them. Ultimately, all of your clients will get benefit from the visualization. These scale models will be more closely connected with reality and allows both management and clients to visualize it better.
Market your project
Ultimately every architectural projects should be sold. Scale models will act as the best marketing tool for selling your project. You may need to get your building partners on board with the ideas as well, ensuring a smoother construction process. And the benefits don't end there. A model, designed well, can be a crucial marketing piece for you and your client. Showing and featuring a tangible visualization of the project allows you and your client to build up excitement about it, ultimately, leading to a more positive reception of the build and finished project. In selling your project, an architectural model can be invaluable.
Don't ever think that the model making is an extra step in an already complex process. Instead, consider it a step that can save you valuable time down the road. Once the model is built, you can use it as a centerpiece to adjust and center your efforts on the priorities that need to be completed. Especially once you begin your work with contractors and other builders, showing them their work in the model helps them understand their work and save significant time to obtain from a 2D drawing. The result, ideally, will be a faster design and building process.
Inoventive 3D, the best model making company in UAE offers Architectural scale models, Industrial scale models, Rapid prototyping and additive manufacturing.
Please feel free to contact us for any further assistance. Call/Whatsapp:+971 52 595 9616 | Email: info@inoventive3d.com | https://inoventive3d.com/