Scale model making companies in UAE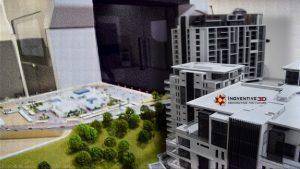 Scale model making companies in UAE – Inoventive 3D, the best model making company in UAE offers world-class scale models for exhibitions, events or promotional meets. With our ultra-modern model making facility we can handle multiple projects at the same time and we assure timely delivery of every scale models.
Inoventive 3D is committed to provide supreme scale models and solutions to our customers. Over the years, we have developed our professional model making team into the most trusted model making company in all over Middle East, Africa and specially in UAE. Our Service is not only limited to model making but we extend our services to its installation and maintenance. Our professional team will be in constantly work hand-in-hand with your team and brainstorm with them to bring out the best and a detailed scale model.
With our many years' experience, we have developed an exclusive clientele database including world renowned builders, corporates, designers and artists. One of our superior product is Interactive scale model, which will give another dimension to the scale model and will communicate with its audience directly. Architectural scale models, Industrial scale models, engineering models, marine models and corporate models are few of our other services.
Inoventive 3D is the first-hand choice for many builders and contractors and they trust us to make world-class scale models for their architectural projects. Our architectural scale models are an excellent marketing tool for exhibitions and events and we are professionals in making scale models specially for events. Scale models from our facility always be the centre of attraction in many exhibitions, tradeshows and fairs as we not only focus on the model, but also present it with excellent and futuristic pedestals.
Please feel free to contact us for any further assistance or inquiries. Call/WhatsApp: +971 52 595 9616 | Email: info@inoventive3d.com | https://inoventive3d.com/