Scale models for building projects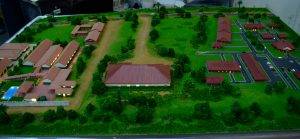 Scale models for building projects – Inoventive 3D, the best model making company in UAE, offers affordable model making services to Middle East and African region. We produce scale models with high definition detailing and elegance. Architectural scale models are used in urban planning, realty development or structural development projects. It is a great communication tool which depict the concept and features from its architect and convey it easily to its audience.
At Inoventive 3D, we regularly produces, Interactive scale models, architectural scale models, scale models for airports, scale models for bridges, engineering scale models, industrial scale models etc., Architectural model builders create scale models for proposed and completed construction projects. These include commercial centers, offices, educational institutions, and government buildings. It also includes shopping malls, housing projects, hospitals, bridges, and other development plans.
In our model making facility, our skilled team regularly manufacturing Architectural scale models, Industrial scale models, marine models, corporate scale models, engineering models, water treatment plant models, flyovers and bridge's scale models etc. In addition to it, we are professionals in making Interactive scale models too.  We take pride in establishing a solid partnership with our clients by assuring quality work that is on the time and under budget. With over last many years of combined experience in model making and a unique understanding of the architectural community, we are committed to deliver our best with long run relationship with our clients.
Inoventive 3D offers the best and affordable model making services all over the world and specially to Middle East and African Region. Call/WhatsApp: +971 52 595 9616 | Email: info@inoventive3d.com | https://inoventive3d.com/