Scale Models in Dubai UAE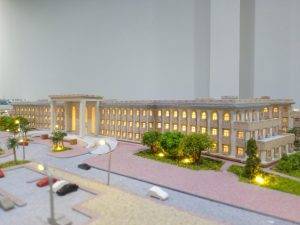 Scale models in Dubai, UAE –  Inoventive 3D Solutions is the leading company in the region for scale models. Being its head office in Dubai, UAE, we are specialized in Architectural scale models, Industrial scale models, Marine models, Engineering Models and Wide scale 3D Printing. We have many esteemed customers from different sector and produced many scale models for  Oil & Gas industries, architectural models for real estate developers and consultants, Marine Manufactures etc., Our strategy and aim is to keep high standards in making scale models and execute it carefully while its making process. We do crafting of every model with extreme professionalism by our professional and best qualified team.
Inoventive 3D Solution is a specialized in:
Architectural Scale Models for Residential Centers, Worship places, Entertainment Hubs, Educational Institutes, Commercial Centers.
Interactive Scale models
Industrial models with projection mapping
Exhibition modular display for exhibitions and conferences
Podium Stands
Wide Format 3D Printing / Large scale 3D Printing
Inoventive 3D Solutions the leading model making company in UAE is providing world-class models and scale models to all over Middle East and African region. We understand the need of our customer and our professional model making team come out with excellent models for their projects. Scale model making has been an integral part of every architectural industry. These scale models are the small representation of every architect's unique creativity and the designers engineering skills.
Scale models are necessary to  realize and understand the actual structures even before they were erected. Hence, scale models should be created in the most masterful detail as it would appear eventually. We present our scale models in its full detail and ensures fastest delivery.
Apart from scale models, Inoventive 3D Solutions offers affordable 3D Printing services to the region.
Please feel free to contact us for any further assistance. Call: +971 4 261 8388 | Mobile/Whatsapp: +971 52 595 9616 | Email: info@inoventive3d.com | https://inoventive3d.com/