Architectural scale models in UAE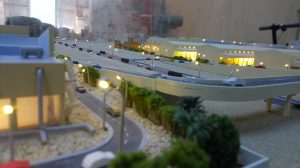 Architectural scale models in UAE – Since last many years, Inoventive 3D helps architects and developers to visualize and display their innovative project concepts by making world-class scale models. There are many digital tools available for creating digital models, but still Architects and developers prefer to go for physical models as these physical models will help them to visualize and feel the exact details of their project like, usage of space, light distribution etc.
Scale models from Inoventive 3D will help architects to be more efficient and insightful about their projects. At Project designing level, architectural scale models help architect to explore every aspects and other building considerations of their project. We can say, scale models can be act like a mini construction site, where it will resemble the original project as it is and developers can easily identify the flaws and it can be rectified by reconsidering design without any huge loss.
Physical scale models represent something that is still under planning which is still open for alterations or additions and it gives all freedom of creativity and imaginations to architect on his upcoming project. This way the architectural model supports for a continuous creative design in process and it is not only for architects but also in their dialogue with their client. The model opens up doors to hidden architectural qualities, to what is still not there.
Inoventive 3D, are the best model making company in Dubai, UAE. We offer best Architectural scale models in UAE, interactive scale models, industrial scale models, rapid prototyping, 3D Models and 3D Printing. Please feel free to contact us for any further assistance.
 Call/Whatsapp: +971 52 595 9616 |Email: info@inoventive3d.com| https://inoventive3d.com/