Terrain Scale Model Making Dubai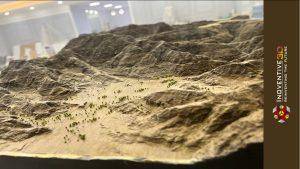 Terrain Scale Model Making Dubai – Inoventive 3D, the largest 3D Printing and model making company in middle east and in Africa offers best architectural, industrial and terrain scale models. We do scale models of any terrain from any geographical area. We do elegant, realistic scale models for every project with an affordable price range.
We are best scale model making company in the region specially for Architectural scale models, Industrial scale models, engineering scale models, interactive scale models, master plan scale models etc.  We use superior technology and material for making scale models and never compromises with the quality. Our state-of-the-art model making facility itself is the example for our standard of quality.  Our model making team is comprised with highly experienced and professional model makers, architects and 3D Designers.
We make terrain models and land scape models in precision and we use ultra-modern 3D Printing technology for creating these scale models. Upon receiving your request and based on your drawings, our designers develop elegant models for you. We can include roads, water bodies, property lines, foundation cuts for building or landscaping etc to the terrain models.
Over the years, we have developed our professional model making team into the most trusted model making company in all over Middle East, Africa and specially in UAE. Our Service is not only limited to model making but we extend our services to its installation and maintenance. Our professional team will be in constantly work hand-in-hand with your team and brainstorm with them to bring out the best and a detailed scale model.
Please feel free to contact us for any further assistance. Call/WhatsApp: +971 52 595 9616 | Email: info@inoventive3d.com | https://inoventive3d.com/