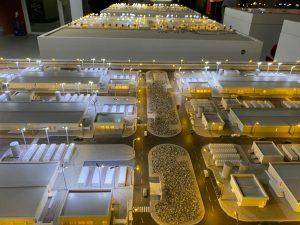 UAE Scale Model Makers – Inoventive 3D, leader among model making companies in UAE offers the world-class models for a very affordable price. At Inoventive 3D, we offers excellent Interactive scale models, Architectural scale models, Industrial Scale models, engineering models and marine models for entire Middle Eastern and African region.
At our extensive model making facility, we make all types of scale models with full detailing. We approach each model in a unique way that will be ideal for your project. Being a professional model making company, we have full range of innovative services which will capture the essence of your project. A highly skilled team of model makers and architects will be taking care of projects and incorporating the detailing and illuminations to the scale models.
We are best in making scale models for exhibitions and events too. Our specialists who will be combining latest technology with traditional model making techniques to give the architectural model a futuristic look. Our fully equipped Dubai workshop caters for project both large and small. You can find all model making services under-one roof with the support of latest and ultra-modern equipment. We never outsource any part of your project and keep high confidentiality on every project.
We use very high-quality materials for manufacture the scale models and have ultra-modern 3D Printing machines to achieve complex shapes and designs for your project. Inoventive 3D is famous for its scale models for exhibitions. Our models being show-stoppers at major exhibitions and seminars in UAE, Saudi Arabia, Qatar, Oman etc.,
Please feel free to contact us for any further assistance. Call/Whatsapp: +971 52 595 9616 | Email: info@inoventive3d.com | https://inoventive3d.com/