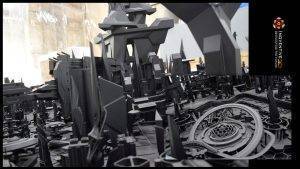 UAE Scale Models – Inoventive 3D, the best model making company in Dubai, UAE offers elegant architectural scale models, interactive scale models, industrial scale models and engineering scale models. Being in the model making market for very long time, we are experts in making and installing scale models in very short time.
Inoventive 3D has become the popular brand name and being the first choice for many leading companies to creat architectural scale models, as we manufactures and delivers highly detailed and accurate models in a relatively short period of time. At our state-of-the-art model making facility, we can also handle complex geometries and shapes that might be difficult to create using traditional model-making techniques.
At our facility, we create Architectural scale models by using our ultra-modern 3D Printing machines along with other traditional model making techniques. For manufacturing scale models, we use variety of materials, including plastic, metal, and even wood!! They can be painted, finished and customized to match the final project's colors, lighting, and materials.
In addition to the traditional architectural models, 3D printing technology is also used to create interactive and smart architectural models, which can be controlled by smartphones, tablets or computers. These interactive models can include lighting, sound, and other effects that can be controlled remotely, making it easier to showcase the design and functionality of a building.
Overall, At Inoventive 3D, we create excellent architectural scale models, interactive scale models and industrial scale models for exhibitions, events and business meets. Please feel free to contact us for any further assistance. Call/WhatsApp: +971 52 595 9616 | Email: info@inoventive3d.com | https://inoventive3d.com/