3D Printed Wall Fixtures & Custom Interior design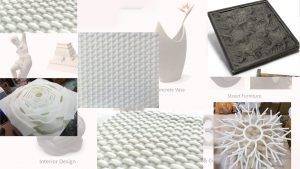 3D Printed wall fixtures – Inoventive 3D is equipped now with the ultra modern and super fast 3D Printing machine for large scale industrial 3D Printing. Inoventive 3D Solution offers modern 3D Printed architecture and interior decorative items such as artwork flooring, fixtures, wall paneling, columns, facades, stairs, room partitions or dividers, planters or table screens. 3D Printed items will increase the charisma of the place but at the same time, these custom-made 3D Printed architectural products can decrease wastage during manufacturing and it leads to decrease in CO2 emissions.
By 3D Printing of interior decors and wall fixtures, we can assure you that you can decrease the project cost considerably and Inoventive 3D has the capacity to deliver these items 30x faster than any other 3D Printing companies. Another benefit with Inoventive 3D Printing Dubai is that, we can 3D Print any items, at any sizes and shapes which will avoid assembly time and increases the product quality and elegance.
Inoventive 3D enables Architectural, Engineering and Construction professional and clients to create their own customized interiors with limitless creativity for an affordable price. Our State-of-the-art 3D Printing facility encourage our customers to become world-class with their limitless creativity. To assist with your designs and creativity, we have in-house professional designers and engineers all the time.
Our 3D Printing facility in Dubai is capable for producing large scale 3d Printed concrete molds for any restoration projects, Fine art and sculptures, Concrete lettering or signage, street furniture or even we are professionals in making 3D Printed boat hulls.
Apart from 3D Printing services in UAE, we have the best model making facility in UAE and can deliver you excellent Architectural Scale models, Industrial scale models, prototypes, Additive manufacturing and rapid prototyping. We have excellent in-house model makers who will deliver you magnificent  architectural models along with futuristic pedestals.
Please feel free to contact us for any 3D Printing services and model making services. Call/Whatsapp us on +971 52 595 9616 | Email: info@inoventive3d.com | https://inoventive3d.com/