Architectural model makers Kuwait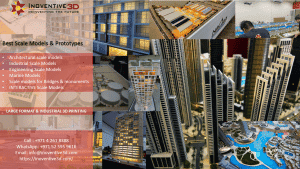 Architectural Model Makers Kuwait – If you are looking for the best and professional model makers in Middle East, Inoventive 3D is the answer. Inoventive 3D offers affordable model making services in Kuwait. With many years of experience and professionalism, they are the leaders in model making services in Middle East and Africa.
At Inoventive 3D, we do Interactive scale models, architectural scale models, scale models with projection mapping, industrial scale models, engineering models, marine models and prototyping etc., We specializes in making world-class scale models for exhibitions, events and business meetings. We guaranty on-time delivery of your scale model anywhere in the world through safest channel.
Scale models are used as the effective tool for articulating features and benefits of the project to the public. A good scale model will enhance the market value of the project among the public and also can be used as a great sales tool. To be more expressive in the market, Inoventive 3D integrates interactive aspects and projection mapping to the scale model which can make a great impact in the market.
Our Architectural scale models comes with landscaping and excellent lighting options along with futuristic pedestals. We have a team of professional model makers, experienced architects and designers to understand your requirement and start working on it immediately. We have capability of handling multiple projects at the same time along with the state-of-the-art 3D Printing facility with in our manufacturing premises. We do every process of model making in-house to make sure your project, designs and its details are not being exposed any other parties.
Please feel free to contact us for any further assistance/inquiries;
Call us : +971 4 261 8388 | Mobile (Call/WhatsApp): +971 52 595 9616 | Email: info@inoventive3d.com | https://inoventive3d.com/