Architectural Model makers UAE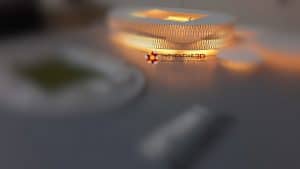 Inoventive 3D, the best architectural model makers UAE proud to offer the best scale models in shortest time… Believe it or not, we make our prices to fit your budgets!!
At Inoventive 3D, we do excellent scale model that is very detailed and tangible for your project. We make excellent and world-class 3D models which enable potential investors, consultants, developers, contractors and public to visualize your project with its complete design and scope. We make scale models with much attention and bring all designs and details out of it.
At Inoventive 3D, we are specialists in making scale models for Exhibitions and events. If you are submitting a project proposal for competing, It is for sure, scale models from Inoventive 3D will be winning the awards for you. In most of the leading exhibitions like, Expo 2020 Dubai, Arab Health, Gitex etc., our models makes the difference and works as an excellent marketing and sales tool.
Physical scale models are some of the best tools for exploring space, scale, materials and other building consideration at project design level. The scale model is like a mini construction site. Physical scale models represent something that is still under planning which is still open for alterations or additions and it gives all freedom of creativity and imaginations to architect on his upcoming project. This way the architectural model supports for a continuous creative design in process and it is not only for architects but also in their dialogue with their client. The model open up doors to hidden architectural qualities, to what is still not there.
Inoventive 3D, are the best model making company in Dubai, UAE. We offer Architectural scale models, interactive scale models, industrial scale models, rapid prototyping, 3D Models and 3D Printing. Please feel free to contact us for any further assistance. Call/Whatsapp: +971 52 595 9616 |Email: info@inoventive3d.com | https://inoventive3d.com/