Architectural models in UAE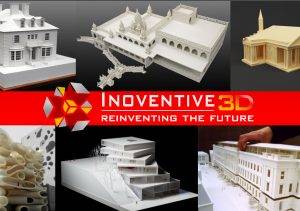 Architectural models in UAE – Inoventive 3D is the best model making company in UAE and have service all over the world, especially in Middle east and African region. We specializes in making interactive scale modes, architectural scale models, engineering models, marine models and industrial scale models.
At our model making facility in Dubai, we integrate traditional model making methods with ultra-modern 3D Printing technology to manufacture the best scale models for our customers in shortest time frame. 3D printing is an efficient and accurate way to create 3D physical models for design verifications, approvals and display purposes and is especially useful for complex geometries including organic shapes that are very difficult to reproduce as traditional paper-based models.
In addition to saving costs and time, 3D printed architectural models made with SLA technology, (Fused Deposition Modelling), are physically durable and tolerant of the prevailing environmental and climatic conditions that can be found in the Middle East region, and therefore provide a very attractive option for exhibition models that can be easily transported.
With SLA technology, a 3D printed architectural model can be printed in 'floors' or sections to fit together seamlessly, giving unprecedented design visualization, for communication with clients and contractors. Internal geometry of the building or plant can be revealed or individual floor plans can be reviewed. The ability to 'build' the sections is unique to SLA technology, due to the way the 3D printer head builds the 3D design geometry layer by layer.
At Inoventive 3D, we offer affordable model making services and fastest delivery. Please call/WhatsApp: +971 52 595 9616 | Email: info@inoventive3d.com | https://inoventive3d.com/