Exhibition models and displays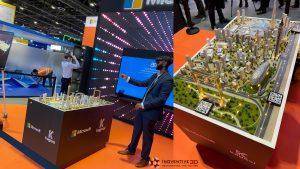 Exhibition models and displays – Inoventive 3D, experts in making models for Exhibitions and Displays. Every major exhibitions carries multiple scale models from Inoventive 3D. We make elegant, precise and world-class scale models where our client gets maximum attention in exhibitions.
At Inoventive 3D, we make interactive scale models, traditional scale models, architectural scale models, industrial scale models, engineering models, prototypes etc for exhibitions.  From concept to construction, we will help you to create a display that communicates exactly what your business is about. If your product or service is difficult to visualize or expensive to transport, we can create a custom-built, eye catching exhibition model that draws people to your stand and allows you to tell your story with ease.
Our professional model making team produce scale models (irrespective of its size and complexity) in a very short time and we deliver all our projects with a very short turnaround time. Apart from scale models, we offer rapid prototyping services with the help of our ultra-modern 3D Printing facilities. We do models for Exhibition wall displays and engineering workflow displays.
Apart from model making, we take care of its safe shipping, delivery and installation throughout Middle East and African Region. You can expect topnotch services from our specialist model making team. Our professional experience on the most complex architectural models, on a range of its sizes and across all industries make us one of the most trusted and leading Model Makers in the region.
Please feel free to contact us for any further assistance. Call/WhatsApp: +971 52 595 9616 | Email: info@inoventive3d.com | https://inoventive3d.com/