Industrial Scale model making company in UAE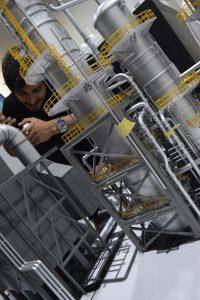 Industrial Scale model making company in UAE – Inoventive 3D, the world-class scale model makers in UAE offers best architectural scale models, industrial scale models, interactive scale models, engineering scale models, marine models, building models etc.
Since last many years, Inoventive 3D leading the market with elegant range of scale models and used to be the #1 model makers for exhibitions, events and business meets. Supported with multiple professional team of model makers, 3D designers and ultra-modern model making facility, Inoventive 3D can undertake any project and can deliver it with in the shortest delivery time.
We do on-time model making services, undertake on-site safe delivery, installation and Annual maintenance of the models. We extensively provides our service to entire middle east region including Africa.
We are specialized in making Industrial Scale models, Engineering models, Architectural scale models, marine models, and structural scale models. As an added advantage, our model making experts can convert any ideal scale models to an amazing and attractive interactive scale models. Interactive scale models can communicate directly with customers by using latest electronic gadgets, applications and LED Screens.
Our model making experts converts sketches to a high-definition scale model with all details. We make your scale model as attractive as possible by adding landscaping, water bodies and natural surroundings supported with internal and external illuminations. To accomplish the extra-ordinary finishing, we integrate latest 3D Printing technology, traditional model making methods and latest tools for model making.
For any further details or inquiries, please call/WhatsApp: +971 52 595 9616 | Email: info@inoventive3d.com | https://inoventive3d.com/