Master plan scale model manufacturers UAE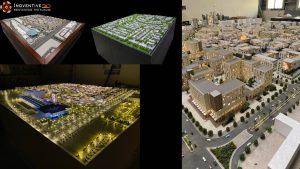 Master plan scale model manufacturers UAE – Inoventive 3D, the best model making company in UAE offers World-class Interactive scale models, Industrial scale models, architectural scale models, master plan scale models, marine models, structural scale models, engineering scale models etc., for an affordable price and in the shortest turn-around time.
Being in the model making industry for last many years, Inoventive 3D has already set its base in Middle East and African model making market and is well known for its high quality and faster delivery. We not only take care on deliveries, but based on the customer requirement and demand, we offer on-site installation of our models throughout the region.
Scale models or prototypes are useful at the stage of project development, project approvals, exhibitions, sales meetings or other such events. An elegant Scale model will leave a great impact and positive impression on its audience and it will enhance the development and approval process. At the same time, if we speaks about exhibition, It is easy and safe to transport a scale model than any original product or machines to the exhibition center. Miniature models, or scale models, are often used in exhibitions. Many builders, advertising companies and exhibition companies are already very skilled in using it in their business. And it has become an important means of display throughout these events. Or in cases, if someone has to display the internal parts of a machine, such as the section model display of hydro-turbine units or such large machineries, scale models or prototypes will help to show-case it more clearly and its operations.
At Inoventive 3D is the best model making company Dubai and we make sure every scale models offers the glimpse into the work of architects and demonstrate their numerous uses with every detail of the project. Our scale models also stand as independent works, fascinating to study in their own right and might. We are experts in making models for exhibitions and events. Few of our scale models are already displayed in many pavilions of Expo 2020 Dubai.
Please feel free to contact us on WhatsApp/ Call: +971 52 595 9616 | Email: info@inoventive3d.com | https://inoventive3d.com/