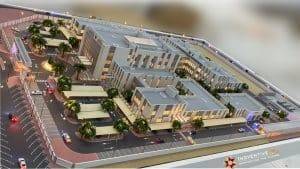 Model Makers of UAE – Scale model making is the process of creating a miniature replica of an object or structure. Scale models are often used for display, education, research, or design purposes. At Inoventive 3D, scale models can be made with variety of materials like acrylic, wood, resin etc.
At Inoventive 3D, we have state-of-the-art model making capacity with ultra-modern 3D Printing machines. We are equipped with 3D Printers, CNC Machines and other modern model making machines supported with experienced and professional model making and fabrication team. We use a combination of all those available techniques to create the most accurate and detailed models possible.
Scale models are very helpful to architectural firms, realtors, product designers etc. Scale models are helpful to;
Presenting designs to clients: Scale models can provide a tangible representation of a design that is easier for clients to understand than a set of plans or drawings. They can help clients visualize the finished product and make more informed decisions about the project.
Testing design concepts: Scale models can be used to test different design concepts and configurations to see how they will look and function in real life. This can be especially useful for complex projects or for projects that will be built on a large scale.
Identifying problems: Scale models can help architects identify potential problems with a design before construction begins. For example, a model can help reveal issues with the layout or with the relationship between different parts of the building.
Marketing and promotion: Scale models can be used as marketing tools to promote a firm's work and to attract new clients. They can also be used as part of a firm's promotional materials, such as brochures and websites.
Please feel free to contact us for any further assistance. Call/WhatsApp: +971 52 595 9616 | Email: info@inoventive3d.com | https://inoventive3d.com/