Model Making Companies Dubai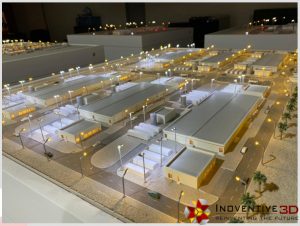 Model Making Companies Dubai – Inoventive 3D makes easy and effective communication bridge between architects and common public. We makes effective  and world-class interactive scale models for our customers. To make other people to understand and see the features of upcoming project which is in an architect's mind is important for every project. Architectural scale models helps architects to display their ideas, concept and innovative concepts for the public.
At Inoventive 3D, we have excellent model making and 3D Printing facility with in our premises. Our state-of-the-art 3D Printing facility have many industrial scale 3D Printing machines and can make 3D Printing of large size models. Our experienced and professional Architectural scale model makers in Dubai helps you to get the world-class scale models for exhibitions or for any other events. We are specialists in Interactive scale models, architectural scale models, industrial scale models, engineering models, marine models and Building models.
Interactive scale model can consist of small mobile single screen device to a large scale multiscreen system with a video wall seamlessly attached. This flexibility gives you the freedom of choice on size and mobility for your models. At Inoventive 3D, we have ultra-modern 3D Printing machine, with we can produce 3D Printed models in any shape, size, color or texture.
As an optional feature, we can connect the interactive model to an adjacent screen, video wall or to a projector and it will enhance the multimedia effect by displaying relevant contents, photomontages, interactive 360 degree panoramas, animations or other info-graphics. A voice over also can be incorporated to the visual displays.
Please feel free to contact us for any further assistance. Call/Whatsapp: +971 52 59 9616 | Email: info@inoventive3d.com | https://inoventive3d.com/