Model making for Exhibitions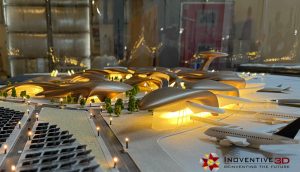 Model making for exhibitions – Scale models plays a vital role in every exhibitions. Inoventive 3D specializes in model making and experts to handle scale models and futuristic pedestals for exhibitions. We makes high quality exhibition models and displays that are uniquely tailored as per your needs. We will help you to make from concept to construction and will deliver the display that communicates with your customer exactly as you expect.
At Inoventive 3D, we have experienced and professional model makers and we are making eye-catching and attractive exhibition models, scale models and prototypes since last long years. Major advantage of  making models or prototypes for exhibition is that, you can avoid the risk in transporting your precious original product to the exhibition venues. We can create prototypes or scale models exactly as same as your original product.
Interactive Scale Models with Project mapping: In an exhibition, scale models with project mapping can work wonders. These scale models will be interactive, customer-friendly and can easily convey your message to the visitors. Definitely such interactive models will become a crowd puller towards your project. With this video projection technology  we will project  video on the surface of these 3D models, and instantly the whole model will look dynamic with moving water bodies, transportation, moving people, color variants etc.
while handling scale models for exhibitions and competitions, our specialized team gives unique attention to each and every parts of the model and make sure it stand-outs from the crowd. We make models with special effects, gives much detailed inspection and attention on color, appearance, shape and lighting of our models.
At Inoventive 3D, we do architectural scale models, Industrial scale models, marine models, interactive models with projection mapping, rapid prototyping and wide format 3D Printing.
Please feel free to contact us for any further assistance. Call/Whatsapp: +971 52 595 9616 | Email: info@inoventive3d.com | https://inoventive3d.com/