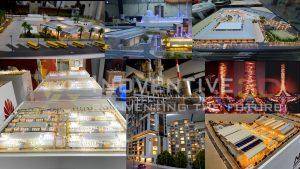 Scale Model Building – At Inoventive 3D, we are professional scale model building makers in Middle East. Quicker turn-around-time, lowest price, and highest quality models are our speciality. We are experts in making architectural scale models including tower scale models and villa models, industrial scale models, engineering models, marine scale models etc.,
We make world-class scale models including villas, towers, master plans etc for very affordable price. We specialize in making of models for exhibitions, events and business meets. At Inoventive3D, we produce scale models based on a clear benchmark of quality and professionalism and hence, we are the top-choice for model making since last many years.
We keep our production standards very high and use latest model making technologies to provide the best to our customers. We help you to create varieties of prototypes even with most complex internal structures and geometries to address your clients. We have 24 x 7 professional designers and supporting staff to assist you at any time. Using our facilities, you can have the shortest Lead time for all your projects.
At Inoventive3D, we undertake simple scale models to complex scale models and completes every projects on a record time. If you want to have a scale model within very short time, Inoventive3D is the best place you can get it done. At our state-of-the-art model making facility with multiple teams of model makers and ultra-fast 3D Printing machines enables us to complete our projects on-time.
We cater best Architectural model making & Exhibition Solution ranging from Interactive touch screen panel, scale models with 3d projection mapping, Interactive Architectural Animation, 3D Architectural Rendering, Architectural Visualisation, 3D Walk-through, 3D Illustration, 360 Panoramic View for Exhibition, Event and 3D Virtual Tour etc.,
Please feel free to contact us for any further assistance. Call/Whatsapp: +971 52 595 9616 | Email: info@inoventive3d.com | https://inoventive3d.com/