Best Model making company Africa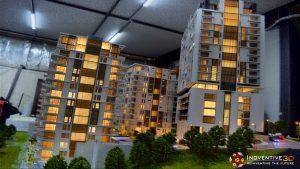 Best Model Making Company Africa – Inoventive 3D Solutions, being the leader in model making in Middle Eastern and African region offers world-class scale models for an affordable price and can be delivered in a shortest time anywhere in Africa.
At Inoventive 3D, we offer architectural scale models, industrial scale models, engineering models, structural scale models, marine models and any other scale models. Among many other scale model making companies, Inoventive 3D stand tall as we are the trusted partner for scale model making. At Inoventive 3D, we bring out every scale models with its complete elegance by keeping 100% confidentiality on your project.
Inoventive 3D are specialists in producing scale models for exhibitions, events, promotional meets and project approvals and every time our world-class scale models outperform all other project models and helps the developer to grab the project. On-time delivery and very detailing work are among our few salient features. We meet very strict and limited time line by following our high-standard quality process work flow.
With our trusted service, Inoventive 3D is being the first-choice model maker for many world renowned architects, engineers, realtors, designers and artists from all over the region. Our many models were displayed in recently concluded prestigious Expo 2020 Dubai, World Defence show 2022 in Riyadh, Saudi Arabia, Dubai International Motor Show 2022 etc.
Inoventive 3D has been committed to making high quality architectural and other scale models for national and international clients since it's established. We specialize in offering a range of architectural models including residential models, commercial models, internal layout models, industrial models, tower models, mass and block models, landscaping models, city plan models, mixed use models, etc. Our attention to model accuracy and details has earned us worldwide recognition and reputation.
Please feel free to contact us for any further assistance. Call/WhatsApp: +971 52 595 9616 | Email: info@inoventive3d.com | https://inoventive3d.com/